Mount P Serves as Backdrop for Hollywood Couple's Secret Wedding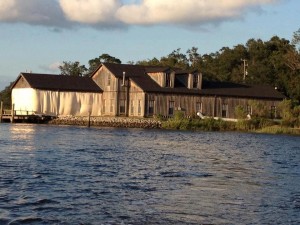 Mt. Pleasant's Boone Hall Plantation is no stranger to weddings. It's a frequent venue for young couples in love to pledge their undying love for each other and their promise to spend the rest of their lives together. Last night was no exception — except that the young couple was a Hollywood power couple.
Reps confirmed that Boone Hall served as the backdrop for "Gossip Girl" star Blake Lively (25) and "Green Lantern" Ryan Reynolds (35) to exchange vows. The guest list was limited to primarily close friends, but Hollywood insiders, including Lively's manager also attended the Lowcountry celebration.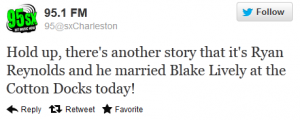 Charleston radio's 95sx was the first to break the news of the super secret affair about 5:40 yesterday afternoon, tweeting, "Hold up, there's another story that it's Ryan Reynolds and he married Blake Lively at the Cotton Docks today!"
PHOTO CREDITS: WSSX-FM on Facebook.