There's a New CRESCENT Rising in the Distance.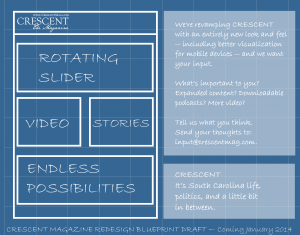 This version of CRESCENT has served us well since October 3, 2011, but it's time for a little more than a simple refresh.
Sometimes a house needs more than a new coat of paint. Sometimes, you need to update the wiring and add on a few more square feet. That's where we are now.
We're in the process of updating and redesigning CRESCENT for early 2014 because, well, it needs to be done.
When we launched CRESCENT, we wanted to take advantage of providing content without the barriers of traditional magazines. We wanted to offer an experience that allowed readers/viewers/listeners to consume content wherever they were and with whatever device they were using. We wanted to be able to publish content when it was ready and not have to wait for the deadlines and timelines of a printing press and delivery of a hardcopy edition to retail outlets. We wanted sponsors to be able to run advertising with minimal lead times, when it was convenient for them, and with the ability to change ads at almost a moment's notice.
As we near the end of 2013, we realize we've outgrown our space. We need something bigger, something that will let us deliver content better, something that's built more around what YOU want.
We're revamping the only South Carolina-focused cloud-based magazine with an entirely new look and feel — including better visualization for mobile devices — and we want your input.
What's important to you? Expanded content? Downloadable podcasts? More video?
Tell us what you think. Send your thoughts to: input@crescentmag.com.
As we build the new CRESCENT, remember, there are a lot of ways to keep up with CRESCENT. You can:
As always, thank you for letting us be a regular part of your infotainment options, and if you have any story ideas about South Carolina people, places, things, or issues, feel free to drop us a line at input@crescentmag.com.
Sincerely,
Taft
CRESCENT. It's South Carolina life, politics and a little bit in between.