CRESCENT's Editor is a Big Loser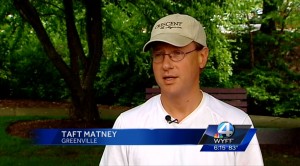 If you've spent almost any time reading CRESCENT, you know that as we discuss "South Carolina life, politics, and a little bit in between," we talk about food. We talk about food A LOT. Why? South Carolina has some amazing food…and almost every kind you can imagine…and some of it is REALLY good.
I'm glad we can bring those things to you, but my own personal love of food is a double-edged sword. On the up side, I get to enjoy some of the amazing epicurean creations offered from the Upstate to the Lowcountry. On the down side, I get to enjoy some of the amazing epicurean creations offered from the Upstate to the Lowcountry.
That love of food had me tipping the scales at a festively plump 280 lbs this time last year. With a body mass index (BMI) of 41.1 and being more than 100 pounds overweight, I was, by definition, morbidly obese.
In July of last year, the wife, the 9 year old and I were at a family wedding. Because the happy couple wanted everybody wearing the same general look for the family picture at the rehearsal party, I had a pair of pants shipped to my in-laws. Taking the pants out of the packaging and putting them on for the first time, I realized that if I sucked every bit of air out of the room, I MIGHT have been able to secure them long enough for the button to turn in to a deadly projectile.
For me, that was my breaking point. I wasn't going up another waist size.
Fortunately or unfortunately, depending on your point of view, there is no halfway effort for me, so when we got back home, I started my road to weight loss.
The first piece of my puzzle was pushing away from the table, and for someone who loves food as much as I do, that wasn't an appetizing proposition (pardon the pun). I knew I had to start cutting back and changing how and what I ate. Did that mean I was going to vow to go vegan or vegetarian? No. Would I give up pizza or cheeseburgers? No. Would I give up sweets? No.
Why?
I knew if I did I would only set myself up to fail, so I had to build in a system that would let me cheat without feeling guilty. I'm pretty good during the week, and then on the weekends, I eat the foods I really like – of course a healthy dose of moderation is important during those times.
The second piece of my puzzle was exercise. That concept was almost as hard for me to think about because unless we're letting a golf swing, the cast of a fishing rod, or skeet shooting hip rotation count as exercise, my physical activity had been pretty limited for more than a decade.
I had to do something, though, and what better time to implement a new exercise program than the middle of summer in South Carolina? Sure. July's a great time to start getting in shape.
I started out walking my neighborhood — well, maybe it wasn't so much "walking" as it was "waddling." At 280 lbs and completely out of shape, that was the best I could do. To loop my neighborhood, it's about 2.75 miles. It took me 55 minutes to do it the first time, and while I was ashamed at how out of shape I was, I still felt a sense of accomplishment  and gave myself a goal. I told myself, "I'm going to get this down to 45 minutes." I did.
Over time, my pace got faster. Was it because I was losing weight? Was it because I was getting back in shape? Was it a combination? I didn't care. All I knew was I was actually seeing changes in myself. My physical appearance was shrinking, and people were beginning to notice.
I kept exercising. My waddle turned in to an ugly walk which morphed in to a combination walk/run, and is now almost all run. I've moved from my original 2.75 mi loop to a little over 4 miles a day. I still don't say, "Yippie! I get to exercise today!" It's more about the guilt I feel if I don't get out there and do it. I've put too much effort in to this journey to throw it away, so I know I can't quit exercising.
Why am I talking about this?
I was talking with a friend of mine who saw me at an event — a restaurant preview, ironically enough — and didn't realize it was me until he was in his car and halfway out of the parking lot.
A television anchor and reporter, he told me, "We need to tell your story. What you've done is amazing." I told him, "Bud, nobody cares that I'm a fat guy who lost weight." He told me it was more than that. He said there are a lot of other people who are in the same boat I was in a year ago and asked, "If your story could help somebody, shouldn't you tell it?" As I thought about his question and was about to answer with, "Maybe you're right," he added, "Besides, I've already talked with the powers that be, and they've signed off on it. We just need to figure out the right vehicle for it."
I told him that it would be fine and laughed about it as we got off the phone.
Fast forward a couple of weeks and my phone rang about 10:30 in the morning with my friend asking, "Hey, dude. You in town today?"
"Yeah. I don't have to go back to Columbia until next week. Why? What's up?"
"Can you meet me this morning? We're ready to do that story on your weight loss."
I laughed and asked him, "Oh. You were serious about that?"
We talked through the logistics of it, why the story was being timed the way it was, and I got ready to meet him and a photojournalist to shoot my part of his story.
That's what you get to see here.
With all of that said, there are two things I need to point out.
First, despite my weight loss, South Carolina still has an unbelievable culinary scene. I will continue enjoying it (in fewer quantities), and CRESCENT will continue talking about it.
Second, there are people out there who are where I was a year ago. Some are ready to make the change, and some are not. To those who are, I give this advice:
Remember that you won't see results overnight and it's not going to be an easy journey.
Take it step-by-step.
Make your goals reasonable, and adjust them as you go.
Don't give up when you slip up.
Don't worry about looking silly when you start exercising. You're going to (worry about it and look it), but you'll get over it if you establish and keep up a routine.
When you burn more calories than you take in, you will lose weight.
Ask for support when you need it. You can't and shouldn't have to do it alone.
Hopefully, my story will speak to a few people. That's my hope, at least. Sure. I like being known for other things other than being a fat guy who lost weight, but if that helps some people start down their own paths, I'm OK with that being on the list.
By the way, if you have a men's clothing line or menswear store, I'm more than happy to talk about being your next spokesman. Losing 115 lbs so far — going from a 44/46 waist to a 32/34 and a size 48 suit jacket to a 41 — there's only so much fabric even the best tailor can take in, so I'm gonna need a new wardrobe.