CRESCENT Entertainment: The Piedmont Boys' Greg Payne on the Band's New Album and Touring Outside of the Bar Circuit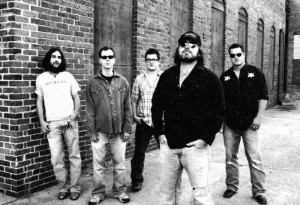 It's interesting that you talk about, let's call it "the process," from the first record because the second does sound like you really worked hard to refine the songs.  It sounds tighter.  It sounds like you really…you can hear that conscious effort in there.
The first album was recorded basically in a bedroom at somebody's house.  A beat machine, a little drum machine…
Really?
Yeah, and it was very quickly done.  Man, we didn't take any time.
It was a fun record, though.
It was fun.  That's the thing. I don't have any regrets over it.  That's the record that got our name out. That got us out West.  And Sunny Ledfurd's the one that produced it.  He did the whole thing.  He actually played bass on it and did all the little lead stuff because it was very raw, dry and just throw it out there.  Because, before that, we didn't have anything.  We didn't have a whole band, still.  We didn't have a fan base like we do now, so that introduced people to who The Piedmont Boys were.  So I don't have any regrets over it.
I liked the way y'all did the old Piedmont Airlines logo and kind of tailored that.  I thought that was kind of cool.
Yeah, because where I'm from in Greensboro, that's their hub up there in that airport so I always like that.  But then, the second album, I did want to make it a more of a country sounding album.  I know the first album we had like hip-hop beats on it, which was fun and it's cool to play on the boat and at parties and stuff but I wanted to get more toward the old school sound so I went to Whitestone Studios, which is right downtown Greenville.  Edwin McCain owns it so went in there and recorded the second one "Walking Pneumonia" and it came out really polished and really good and we were happy with it.  There's always…you always like the album when you put it out, in your mind, as an artist, there's always room for improvement.  I don't care what you do, you're going to look back and say "Man, we should have done this, that."  But for the most part, I love the way it came out.  That's the difference between the first 2.
I mean, that's also your baby.  Whenever you have something like that come out, there's a certain amount of pride that comes along with it.  I mean, you created it and you never want anybody to start saying anything about your baby.  That leads to where we're going.  You've got the 3rd CD that just came out a couple of weeks ago, "All On Red."  What are the differences between the 1st, 2nd and 3rd?  How would you compare the last one to this one?
This one was, first of all, produced by Tim Lawter, who played bass with Marshall Tucker Band for 20 years.  He's been around the block.  He knows the sound I was looking for before I walked in the door.  He's played with Hank, Jr, Charlie Daniels, .38 Special, and toured with all those guys for years and years. I went in there and told him, "Tim, I want an 'old school' feel to this record.  We're going to bring in some musicians, we're going to bring in some steel guitars and stuff."  I think, first of all, he knew from the get-go what we kind of wanted.  As far as the recording goes, he did a great job with it.  Like I said, you always look at it and say that something else could be done but I'm thrilled with the way it came out.  As far as the song writing goes on it, like I said before, I went from the first one to the second one with a conscious effort not to throw out all the subject matter but sometimes I listen to them and think "Aw, that's too pretty an album."  So this time, I said I'm going to get back to my roots of song writing but I'm going to Hendrix it down a little bit not, like we talked about earlier, where it's not blunt, in your face.
But you still get the drift.
You still get the drift.  It's more of an outlaw album when it comes to the writing on it which is what I wanted and the sound on it is what I wanted and I'm thrilled with how it came out and I think everybody will like it.  I've heard a lot of good feedback so far that it's by far our best album.  I think it intertwines the first 2.  We spent more time in the studio but we didn't milk down the songs too much to get our point across.
With Tim, obviously having a vast amount of experience with MTB, he brought something to the table that y'all hadn't had before.  Even though you worked with Edwin's studio on the 2nd record, you were working with a different guy with different experiences.  What did he really bring to the table that y'all didn't have before?
Tim would…for example.  I've been singing these songs that we recorded for a year now.  We've had them written for a long time.  I was set in my ways of singing a particular song a certain way and I go in there and I start singing it and Tim's, "Hey, man. Hey, man. How about instead of staying low there, come up with the pitch.  Let's try it."  I'm like, "All right."  So I did it.  He goes, "There you go. That's the way it should go."  So I listen to it and think, "Man, that's exactly right."  Another good thing about Tim Lawter, I think, he just said "Dude, just sing it, just sing it."  We did it like two or three times a part.  He said "Man, it sounds good, don't over think it."  That's one thing he brought to the table.  You want to keep a raw aspect to your album if you're playing the kind of music we are.  It doesn't need to be polished and pretty.  It needs to be polished enough that it sounds good and that we're not out of pitch or out of key or anything.  He just let us run through it, play it, sing it.  He would change us and tell you certain things, always for the better.  You know, with somebody like that, if he says something, you've got faith in what he said.  You don't question him too much.  He's been around, he's heard it, he knows what we're looking for so it was good to work with him.
You guys are having experiences that have taken you past the local bar scene.  It's not just Main Street Downtown Greenville anymore.  You're getting exposure outside of the region and you're doing it with some national acts.  What kind of fun has that been?  And how has that changed the way you're looking at the band's future.
It's been a lot of fun.  Too much fun.  I'll tell you what it does, man.  Once you get a taste of the big stage and the big crowds, you want to get back there as soon as you can.  And how you do that, I don't know, besides maybe going to Nashville and working to get on somebody's label.  I like to do it the old fashioned way, I guess.  I like to do the grass roots.  I like to build a fan base up and not rely on some big executive to throw us in front of an audience.  Getting in front of those crowds, in front of those people, has taught me a lot.  Like, the first time I got front of Eric Church, for example, I walked on stage with the music for him, and the place, you couldn't move in there.  My knees were shaking so bad, I thought I was going to fall down.  I'd been playing for 3 or 4 years, so it wasn't my first show, but it was my first big, big performance in front of this thousand people in the Music Farm.  And, man, I got up in front of the microphone and my knees are shaking, I don't even want to move.  I thought, "If I take a step back or a step over, I'm going to fall down."  And that's how it was.  I got through the 20 minutes we had on there, and I walked off that stage thinking, "That wasn't so bad, I'm ready to do it again. I'm ready to go back."  Not too long after that, we played with Gretchen Wilson a couple of times, and immediately I was comfortable from that first experience.  And you have to remember it doesn't matter if there are 50 people there or 5000, they're just people.  They're still going to have the same…your sense of humor is going to be the same with them as it is with 50 people in a bar, so just be yourself.  So I've learned a lot about how to entertain a bigger crowd and especially with Dierks Bentley and Josh Thompson, those shows were amazing.  We got to do 6 with them.  The first couple were a little shaky, but after we got comfortable, and the last show in Norfolk, Virginia was incredible.
How'd you come up with those guys and get on that bill?
We're sponsored by Jagermeister and they put on a Jagermeister country tour every year in the Spring.  Actually, it lasts for most of the year and they call us when they're in this region and they look for local support.  They actually sent about 30 or 40 bands to Dierks and said choose the band you want.  And they chose us.  They chose us over whoever those 30 bands were.  Yeah, they said that was more the sound they were looking for."  We had the fiddle because he's more a bluegrassy guy now.  He's doing a lot of bluegrass stuff.  So we just got lucky.  We fell into it.  And when I got the call that day, they said, "You've got 6 shows to choose from, which one do you want?"  I said, "Well, can I take all six?"  He said, "Yeah."  So that's what we did.  It's been a great learning experience.  The fun we've had, being on the road, being in front of those crowds.  And after the shows, going out and signing autographs thinking that we're somebody…we're just a bar band from Greenville, but they treat you when you're on those tours like you're on the CMA Awards.  You're signing autographs, you're signing everything.  It's fun.  It's a good time. And it really make you say, "Hey, I belong there.  I belong in front of those crowds.  I know I can do it."  It's what we're trying to get to on a more consistent basis.  In order to do that, you've just got to be in the right place at the right time and have somebody believe in you and say, "We're going to put you on tour with Dierks Bentley for six months and see what you can do.  See how many CDs you can sell."  That's what we're looking for.  Ultimately.  We've still got a ways to go with a lot of different stuff but I think we're getting close to where we can do that.
I'd be nice if Dierks could put in a word.
He liked us.  He'd come and hang out with us.  He actually wore a Piedmont Boys hat one night.  The thing is, what I learned to, though, those guys have just as many, if not more problems, than I've got. You know, as far as him putting in a good word, it would be nice, but I think we'd have to be around him for a few more times.  Like I said, he's…it's a job.  He's not just back there hanging out, partying.  He's got all these other things on his mind.  He had his wife and his kid with him for most of the shows we were there, but it would be nice.  Even Gretchen Wilson, she loved us.  She started her own record company, "Redneck Records," and it would be nice for her to remember us, but the thing is we've got to stay in their circles.  You hit 'em one time and they like you, but you hit 'em again and they're like, "Yeah, I remember you, what's going on?"
You want to stay top of mind with them.
Yeah, yeah.  I do And I think if we're around them more often, I think that they would see what we're all about and get to know us and once they got to know our personalities, hanging out, I think they would like us.  It's all about being in the right place at the right time.  I believe that in about anything you do in life.  It's all about hard work and dedication, but you gotta get lucky a lot of time.  You've just got to get lucky.  And I think that the harder you work, the luckier you are but that's where we are right now.
To keep up with The Piedmont Boys, visit them at www.ThePiedmontBoys.com.
If you want to hear The Piedmont Boys live, catch them:
Friday, January 13, 2012

at Quaker Steak and Lube in Greenville, SC

Saturday, January 14, 2012

at Hogtails in Anderson, SC

Friday, January 20, 2012

at Wild Wing Café in Asheville, NC

Friday, January 27, 2012

at Rusty Rudder in Cornelius/Lake Norman, NC

Saturday, February 4, 2012

at Johnny and June's in Winston Salem, NC
Stay Tuned for Part 3. To Read Part 1, Click HERE.