CRESCENT People: Kelly Tilghman Opens Up with Some Personal Thoughts and Discusses South Carolina's Place in Golf…Including The RBC Heritage.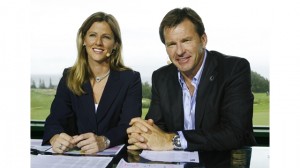 South Carolina has the license plate "First in Golf." When GOLF magazine published its "Country's Best Courses" list, only 4 South Carolina courses made the list – Kiawah Ocean Course (which will host the 2012 PGA Championship), Harbor Town was 45th, Yeamans Hall in Hanahan was 67th, and Long Cove at Hilton Head was 94th.  Do you think that number is right, or are there other courses that should have made the list…or should have some of those courses been taken off?
Great question.  I've played 3 of the 4 South Carolina courses. I haven't played Yeamans Hall, though.  All of them are just burned into my memory. That's how good they are.  They're all very deserving to be on that list.  I can think of a multitude of golf courses…I mean, Tidewater should be on that list.  It's breathtaking, and it was the #1 public golf course for at least a year that I'm aware of, when it debuted.  There are quite a few others that could and should be on that list on a private level, but there's a lot of competition in this country. Four out of 100? 4%? Yeah. There should be more, definitely.  When you're looking at golf courses like Pebble Beach and Pine Valley and Augusta National, you've got some stiff competition and I'd like to see more majors come to the state of South Carolina which might give us the boost that we'd need.  It's tough to break into that major rotation.  We have a long way to go in that department, don't we?
I think so.  Which is actually a perfect lead-in because of something you did last April.  You, your Golf Channel broadcast team, and the CBS broadcast team, essentially did a week-long commercial for Hilton Head. 
It worked!
It was unbelievable, not only to keep The Heritage on the schedule, but to keep its place on the schedule.  That traditional date right after the Masters.  What did that mean to you as a broadcaster, as a golf fan and as a native South Carolinian as we talk about bringing about bringing more majors to South Carolina.
It meant the world.  This is a tournament that my friends go to every year to socialize. My mother and her friends have gone 2 or 3 years to socialize.  Her mother and their friends.  You get the idea?  It's been handed down over the generations.  To think for a minute that that tournament was going to go away, not only for an economic standpoint and what it can do for the state of South Carolina and the whole area there of Hilton Head Island, but just for morale's sake, you want to keep it. You want this state to be a part of the PGA Tour schedule.  You want it to be a proud part of the PGA schedule and you want to have strong advertising for the state of South Carolina.  Hilton Head can do that.  It was the first time I had called a tournament in a year that it needed to be "saved," for lack of a better term.  I was really proud to be involved with it.  Also, I'd like to congratulate Governor Haley for what she was able to do, to be able to keep it alive on the PGA Tour schedule, and I have a feeling this tournament is going to be around for a very, very long time.  The players will do…they'll almost do anything.
They were as vocal as the broadcast teams.  Every time somebody got a mic in front of them, the mantra was, "Keep this on the schedule."
I think Stewart Cink put out a Tweet.  He's got like 1.2 million followers, and he said, "If I can get $7 for every one of my followers, we'll call it the "@StewartCink Invitational."
I remember that.
I loved it.  These guys will do short of anything to save this golf tournament.  I'm right there in the mix.
2007. Masters Week. You were on Arnie's bag for the Par 3 tournament.  That trio included Nicklaus and Player, which is a huge dream come true for anybody who has ever watched the game at any point.  In your dream round, who's on your bag, and who are you playing with?
Well, my dream round instantly includes my grandfather that I mentioned, Melvin Hemphill and my great aunt, Katherine Hemphill.  Because I never got to play golf with them and that's something I really, really, really wish I could have done.  My Pops got to see me hit some golf balls when I was a kid, and he encouraged me but he never got to play a round of golf with me so those two are instantly in there.  And the fourth member of that group would be my late brother.  I lost him at a young age, and me and my youngest brother Drew love the game of golf.  Both of us avidly pursued the game of golf and my brother Philip, who's no longer with us, was picking it up. He was frustrated with it. His brother and sister were always better than he was at it.  He was on the verge of quitting constantly, and I was always encouraging him to get back out there.  We just didn't get to play enough rounds of golf together.  So my dream round is my grandfather, my Pops, my great aunt Katherine and my brother Phillip.  Who is on my bag?  Never, ever, thought about that.  I've never been asked "Who would you like to have as your caddy?"  I probably….
It's truly an underrated position.
Yeah, it is, I'd probably have to put my Dad on the bag because he's the driving force behind why I played this game. So it would be a family affair from start to finish.
Personal preference.  Full hat, cap or visor?
Cap, baby.  I'm a baseball cap girl.
What's on your iPod right now?
Everything. I've got classical piano.  I've got some Josh Groban.  I've got electronic dance music because I work out constantly, and that keeps me going.  Love a little bit of alternative rock.  I need some jazz for that glass of red wine when the sun sets, and I need some hip-hop when I'm out on my boat and I'm wake surfing behind the boat.  So I like to shoot the gamut, but honestly, if I can only listen to one thing for the rest of my life, it's probably going to be something R&B because that's just me.  I'm an R&B girl.  I need a little B…
Old school?
Old school R&B.  Old school, 80's. I love it.  Absolutely love it.
Like?
Oh, give me a little Keith Sweat.  Give me a little Jodeci.
I didn't know if you were going the Al B. Sure route…
Oh, my gosh. Al B. Sure. "Night and Day." All-time favorite. Love you for that. "Night and Day."  Al B. Sure. I could listen to that the rest of my life.  Wore that cassette out when I was in high school to say the least.
Dumbest question you've ever been asked — and feel free to include any of the ones I just got finished with?
Good gosh, dumbest question I've ever been asked.  Thankfully, I haven't been asked many dumb questions.  "Do you like your job" is probably the dumbest question I've been asked.  Yeah, I like my job.  Love my job.
That's probably the dumbest question I've ever been asked.
Has there been a time when you sat down for an interview, you really, really wanted them to ask you something, but they didn't ask it? If so, what's that question, and what's the answer to that question.
You know, I wish I could come up with something great for you there, but honestly…
You don't want to be prophetic?
You know, I'm a really out-going person.  I'm a really … I love what I do.  I love the success that we've all had on the Golf Channel and the fact that I've been able to tag along for that ride.  Like I said, I crave a challenge.  But, as extroverted as I can be, I'm really not that socially aggressive.  I'm kind of an introvert at times.  I tend to shy away more from jumping in the middle of the media limelight.  So I don't think I crave too many probing questions.  I don't crave any attention for …I think you can see what I do, and you can kind of draw your own conclusions.  So in that sense, I don't think there is anything I've wanted to be asked that I haven't been asked.  Boring as that may seem, it's the truth.
To Read Part 1, Click HERE. To Read Part 2, Click HERE. To Read Part 3, Click HERE.