CRESCENT Entertainment: The Piedmont Boys' Greg Payne — Minor Leaguer to Outlaw Country Frontman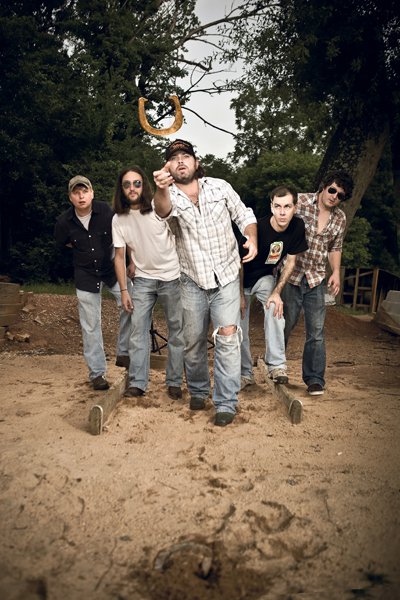 Over the past several years, The Piedmont Boys played audiences from the East Coast to the West Coast. They've opened for Dierks Bentley and Gretchen Wilson. They played at a rally for the South Carolina Energy Forum. They've played dive bars, music halls, and everything in between, but for some reason, they still aren't signed by a record label. That's a shame. In a state that produced Hootie and the Blowfish and Edwin McCain, The Piedmont Boys are positioned to lead a new class of musicians to the top of the charts…if only we didn't keep them a secret in South Carolina.
TPB frontman Greg Payne opens up about how a career playing minor league baseball and Arena (af2) football led him to real estate sales and eventually to his love of music — old school, David Allen Coe, Johnny Cash, Waylon Jennings, country music.
I guess the first piece would be how did you get from NC to SC?
After college, I played minor league baseball for 2 years and …
Who were you with?
I was Independent League.  It was kind of funny because now I'm still an independent artist.  I never got drafted.  I was told I was going to get drafted by the Royals and White Sox but they never drafted me, but I got picked up by the Independent League in Glens Falls, NY.  I've had 3 loves my whole life:  football, baseball and music.  So I wanted to play pro baseball, so I went and did that.  Got hurt after my 2nd year, came back home and actually went and played Arena League football for the Greensboro Prowlers up in North Carolina.  After that…that didn't last too long.  I got hurt again and I just sick of the whole hustle and bustle of it.
Long story short, I quit, but I felt like I gave it a good shot in both baseball and football.  I got into real estate and I was in real estate in Salisbury, NC.
Because that's just like baseball and football.
Exactly. Just alike.  A buddy of mine hired me as a sales rep and I started making money for the first time in my life and I got the fever of having a lot of money.  So a couple of years later, I started my own real estate and construction company and moved to Greenville because, the research that I did, this market was hopping.  And it was.  That was back in '03, I guess.  I ran that for 5 years and, you know, I turned 30 years old and, a few things happened.  I met some people.  I had a breakup back then, with a girl, and I had a buddy of mine pass away and I said, "Man, I'm 30 years old, I don't want to regret not trying music."  I'd never been in a band before.  I always just played in the dorm rooms in college in stuff.  So I called a buddy of mine in Florida, who I went to college with and said, "Come on up to South Carolina and let's start a little band and write some songs."  And he did so it started there.  Started as a 2-piece and we wrote some songs and added a couple of band members and the next thing you know, we're a 4-piece.  The next thing you know, we're playing bars in downtown Greenville every week, packing them out.  It was fun, I just got the fever for it.  That's where it started.
You went to the 2-piece to the 4-piece to the 5-piece.  How did the band's evolution take place? Because you started out with your buddy and it's, "Hey, we're going to write some songs and see where we go."  How did it pick up after that?
We started going to a place called The Pickin' Parlor, which is not there any more.  It was below Gypsy G's Roadhouse out on Rutherford Road (in Greenville, SC).  It was a cool little place, man.  They had open mic night every night.  Anybody could come in there and bring their instruments and generally there were 10 or 15 musicians in there from drummers to guitarists to bass guitarists to mandolin players.  Everybody would just sit in with each other and so I started going…
You're always playing with different people.  You never know who's going to be there.  You just show up and see what you can put together.  So I did that a few times and there was this drummer there, Brian Kennedy, who's still with us.  He started playing a little drums with us and I said, "Man, that sounds good, that's a good feel."  I wanted to add more to the sound so we started bringing Brian in.  Then my buddy I started the band with, he left the band.  Met a girl and got married, so I hired, just through a mutual friend, a bass player, Ronnie Gunter, and then a fiddle player Matt Parks, from Spartanburg.  Looking back on it, I don't know how all the details worked out but it just came together pretty quick and the next thing you know, we had a 4-piece and we're in the studio recording our first album.
The music that you guys put out has a lot of, "outlaw country" in it. You're the one who writes most of the songs.  Does that outlaw appeal come more from the love of the sound or the love of the lifestyle. 
Both.  But more the sound.  When I write songs, 99% of the time, it's something I've lived.  Sometimes you can make up a story…you think "This is could be a good story, I'm going to put it in a song."  But for the most past, what I've written has been real-life experience.  On the same token, though, I have people come to me and say "Hey, what are all your songs about alcohol and drugs and, you know."  And I'm like, "That's not what we're all about."  And I hate that it comes across sometimes to people like that.  We're not all about that. When I started listening to Johnny Cash and David Allen Coe, there's just something about those old outlaw songs that say…people aren't singing about the real stuff in the world today.  If you hear anything on Nashville radio, it's all about things just hunky-dory perfect and about love and all that.  And all that's good, that's fine but, you know, I grew up on the Waylons and Johnny Cash and Billy Joe Shaver and they're topics for songs back then are a lot different.  That's what I grew up on listening to, so I guess that I'm not afraid to put certain things in my songs, whereas Nashville radio's not going to say, "Oh, we're going to put this on the radio."  I understand that.  But I'm not writing geared to what the radio execs want to hear, I write what I feel first and also what I feel will appeal to our fan base.  We've got some rowdy fans, man, and they come out in numbers.  They support us so when I sit down to write a song, I keep them in mind, first and foremost.
There's a lot difference between the first and second records.  You were talking about how you write and about how some of the songs are perceived and I think the drug and alcohol use was pretty prevalent in the first record, but you didn't really have that in the second.  Was that a conscious effort or did it just happen that way? 
It was conscious.  Bottom line, I've got a Mama and Grandma at home that I've got to spend Thanksgiving and Christmas with.  I love 'em (the songs on the first record), don't get me wrong, but when I put them down on the album and when I come to see my Grandma who goes to church every Wednesday and every Sunday and I hand her a CD saying, "Here you go, Grandma,"  I mean, I'm human, man. I knew I had to do something a little bit different (for the second album).  There are ways to say things without saying them and being that blunt about them.  And I knew that going into it, but the first album, it is what it is.  I listened to a lot of the old Waylon songs and they were saying stuff that…you knew what they were saying, but they didn't come out and say them.  I said, "I've got to get my song writing a little bit better, I think."  And stop all the reference of everything being so brutally honest.  So, yeah, it was a conscious effort.  I don't want to conform too much, so after the second album, the third one, it just got out, it's almost in the middle of that, but it's not that blunt with references like the first one. I still want to be edgy, a little raunchy, a little hard core, but again, I want to be able to take it home and give it to my Grandma, and my Mom would be proud of it.  The first one…I think they just threw it away.  They didn't give it to any of their friends.  The second one they loved.
If you want to hear The Piedmont Boys live, catch them:
Friday, December 23, 2011 at Ford's Oyster House in Greenville, SC
Friday, December 30, 2011 at Wild Wing Café in Spartanburg, SC 
Saturday, December 31, 2011 w/ Guilt Ridden Troubador at The Windjammer on Isle of Palms, SC
Friday, January 6, 2012 at Chuckwagon in Sumter, SC
Saturday, January 7, 2012 at Bighorns Sports Grill in Charleston, SC
You can also follow them online at http://www.thepiedmontboys.com.
Stay Tuned for Part 2.